Content marketing is one of the best marketing channels.
However, you need to know how to create the right kind of content. This checklist will analyze everything you need to know about creating successful content marketing campaigns.
1. Know your audience
Who are you writing for?
Answering this helps you build the foundation for your content strategy. If you're in B2B, you're probably writing for the C-suite, executives, and other business leaders. If you're a fashion brand, you'd create content for teens and young adults on social media. You get the point.
Your existing customers are a good indicator of who your content should be targeted to.
2. Plan your content strategy
Your content strategy dictates what you'll write or produce in a specific timeline. Content strategies are usually planned out for the year, but you can also plan it by week, month, or quarter.
A good content strategy includes ideas that cover your entire target market. At the minimum, you should be creating content for people who: a) don't know about your brand and b) are aware of your unique value proposition.

We suggest using a social listening tool like Lucidya to come up with content ideas. You can understand what your customers are talking about on social media and use that to inspire your content strategy.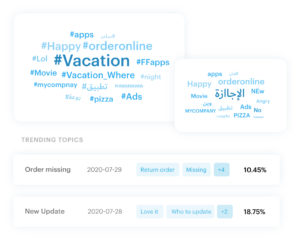 3. Determine your schedule
We recommend staggering your posts every few days for the best results. HubSpot suggests sharing two to four pieces of content every week. You can do daily posts. But, you run the risk of boring your readers from having too much content.
'Heavyweight' content like eBooks and whitepapers should be spread out even more as they take longer to consume. Again, social listening tools come in handy here. You can use a tool like Lucidya to understand how people are responding to your content frequency.
4. Make it engaging
Great content pieces have equally stimulating visuals. You don't have to come up with a masterpiece. But, a few infographics or images here and there will attract readers.
Being concise matters as well. Write as if you're talking to a five-year-old. Keep it clear, simple, and short.
Make your content persuasive. It needs to get people to take action, whether it's making a purchase or downloading an eBook. Here's a great guide on how to produce persuasive content consistently.
5. Promote your content
The most successful marketers spend 80% of their time on promotion.
Why?
People won't see your content just because you posted it in your blog. You need to promote your content to attract readers.
It's easy to get started. Share it on social media. Send it out to your email subscribers. Run exposure ads every time you create new content. Don't be afraid to get creative with your promotion strategies.
6. Track your performance
It's important to track how your content is performing. The basic metrics you need to know are:
How many people have engaged with your content?

Do readers take action after consuming your content?

Which topics or content format generates the most engagement?
Understanding these key metrics lets you create more effective content strategies in the future as you know what your customers want. A social listening tool does this for you automatically so you spend less time researching, more on working.
Learn how Lucidya helps brands create highly effective content with social listening.