COVID-19 has heavily affected revenue for businesses all around the world.
However, this does not mean all business has to stop. You can use content to raise and generate leads when the situation turns for the better. How can businesses achieve this with a social listening tool like Lucidya?
All Is Not Lost in the Current Crisis
Consumers are spending less on goods and services due to the COVID-19 pandemic. Many industries are expected to lose anywhere between 30% to 50% in value this year. As unemployment increases, saving up cash becomes even more important for the average individual.
That said, economists believe this blip is not a long-term concern. Consumer activity is starting to pick up in countries like China and Greece where the situation is improving. A recession may happen but its impacts will not be as devastating as previous recessions mainly due to stable and faster-moving economies.
This is why you should not feel this is the end of the world for your business. Clients will come back and rekindle your brand. It's only a matter of waiting the pandemic out and doing the right things to keep your business afloat in the meantime. Creating great content is one way to do so.
Why Great Content Matters in Helping Your Brand Recover From Crisis
When consumers are not buying, the next best thing to do is to make them aware of your brand. You need them to understand why your brand is important to them, be it personal or in business terms.
The easiest way to achieve awareness is by pushing out content focused on your target audience's needs. For example, you can create tutorial videos on YouTube and social media platforms to educate users on a specific topic. When people are engaged with your content, they trust and like your brand more which leads to more sales—even if they're not buying now.
Content marketing is cost-effective. You only need to produce content once to benefit from it. It is also six times more effective than paid advertising while the average cost per lead for content marketing ranks the lowest among other digital channels.
The question is, how do you start with content marketing? Researching ideas by hand is a start but it wastes a lot of time and effort to manual work. Here's where a social listening tool like Lucidya comes in handy.
How to Use Lucidya's Content Analysis Tool to Create Engaging Content
1. Find out What Customers Are Talking About
Finding the right ideas for your content is challenging. With Lucidya, you can track customer conversations on social media to identify their thoughts and opinions. For example, if your users are talking a lot about the COVID-19, you can create a blog post or video on COVID-19 which is aligned with their current interests.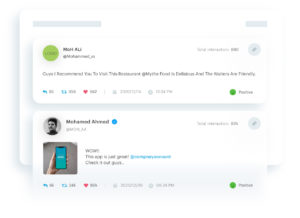 You can track keywords, topics, and mentions across all social media platforms to gain virtually unlimited ideas for your content strategy. The best part is, you will always create relevant content since you don't need to guess what your customers would enjoy and vice versa.
2. Discover Competitor Content Strategies
It's good to look at what your rivals are doing to inspire your content strategies. You can figure out what works—and what doesn't—and adapt that to your campaigns. This is an essential part of any competitive analysis especially in the social media age where content is king.
Lucidya's research tool allows you to analyze competitors for any metric including their content strategy. You can research their ideas on every social media platform to gather useful insights. You can even benchmark your content marketing performance against competitors at any point in time with Lucidya.
3. Keep up With the Latest News and Updates to Include in Your Content
Good content must include accurate and up to date data. You don't want readers to click on a blog post only to see statistics from two decades ago. It's also good SEO practice to insert updated information in your content according to Google themselves.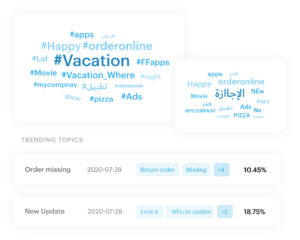 Lucidya's keyword monitoring feature allows you to get notified on the latest news and updates for any topic or industry. This saves you tons of time since you no longer need to do manual research. You will be able to push out higher-quality posts faster which will elevate your content marketing performance.
Why Lucidya Is a Must-Have Tool for Successful Content Strategies
Lucidya is an AI-powered social media listening tool that empowers companies with in-depth, never-before-seen customer insights. Lucidya's best-in-class text analysis engine also provides powerful sentiment analysis for conversations in English and all Arabic dialects including Najdi, Hijazi, Levantine, and many more.
With Lucidya, businesses can build profitable products, boost customer satisfaction, execute successful campaigns, and close more sales thanks to our extensive list of social media listening features.
Ready to listen to your most valued customers?